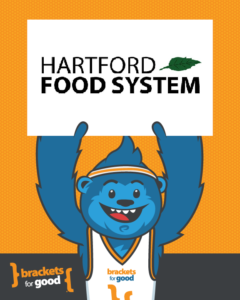 Brackets For Good
Begins Friday, March 2nd 2018 at 6:00pm
Ends: You Decide! (April 2018)
Join our team today: http://connecticut.bfg.org/matchup/hartford-food-system-inc
What Is Brackets For Good?
Brackets for Good (BFG) is a charitable organization based in Indianapolis that focuses on increasing awareness of small nonprofit organizations, like us.  Every March, BFG pairs 64 nonprofits from around the country head-to-head in friendly matchups that run along the same timeline as March Madness. Nonprofits compete to raise funding for their respective causes and the organization that raises the most money at the end of each bracket, advances to the next. At the end of each round, nonprofits get to keep all funds raised and the Champion of BFG at the end of the tournament is granted an additional $10,000 to support their work!
Why We Need You!
We have our sights set on that $10,000! Imagine what that could do to help us bring healthy food access to even more residents of Hartford! We need your help spreading the news about BFG and helping us raise money to advance through our bracket. Head over to http://connecticut.bfg.org/matchup/hartford-food-system-inc right now to donate "points" and complete tasks to advance us through our bracket. 1 point = 1 dollar for us. Throughout the tournament donate as much or as little as you can to help us advance through our bracket. Just one extra point ($) from you, could be the buzzer-beater we need for our bracket! Share the tournament on your social media and tell your friends about us. Every dollar, every point gets us one step closer to being tournament champions!
What Are Buzzer Beaters?
When you make a donation throughout the tournament, turn on the feature right in your donation window to donate "Buzzer Beaters". What this does, is double your donation, half for now and half for after the bracket closes. For example, if you choose to turn this feature on for your $50 donation, you will be charged $50, but $25 will show up on our scoreboard now and $25 will come in after the round closes. This tactic adds excitement to the game because our competition cannot see those buzzer beater donations. They may appear to be winning the bracket, then SWISH the bracket closes, Buzzer Beaters come in and we beat them!
Your donation, big or small, really could be a "buzzer beater" that puts Hartford Food System into the next round.
Don't forget, only donations through the link above count towards our tournament total! For more information about how the tournament works, visit BFG.org and view this video: https://www.youtube.com/watch?v=RY4E07Hri-4.